Creating professional documents is a science of its own. Formatting and choice of the right file format, using automatisms and careful proofreading, templates and paragraphs - all this combines to accumulate a literal heap of problems. Maxiplication protects you from all this.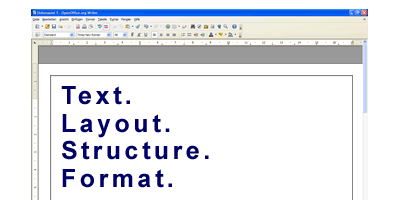 Maxiply your documents
"Maxiply your documents" means to ensure that your document will be securely preserved and optimally received. As condition to both these effects, your ideas need to be well structured and saved in an adequate format.
Always bear in mind that your ideas and your intellectual work is what needs to be preserved first; colours, text styles and fonts are secondary information.
Data security is important with all documents, and it means both preservation and protection against external manipulation or unauthorized access. Maxiplication will assist you in all these areas and give you a whole new approach to controlling your workflow.
Professional writing
Last but not least, Maxiplication will also assist you in your professional writing. Maxiplication will wirte not only website content, but also articles, letters and slogans.